Financial Tear Sheet
Corporate Profile
Protagonist Therapeutics is a clinical stage biopharmaceutical company that utilizes a proprietary technology platform to discover and develop novel peptide-based drugs to transform existing treatment paradigms for patients with significant unmet medical needs. PTG-100 is an oral alpha-4-beta-7 integrin antagonist peptide  that was being developed for inflammatory bowel diseases (IBD).  The company's interleukin-23 receptor antagonist peptide, PTG-200, is currently being studied in a Phase 1 clinical trial in healthy volunteers to support further development in Crohn's disease.  The IL-12/23 pathway blockade is an approach that has been validated through an FDA-approved injectable antibody drug. The company has entered into a worldwide license and collaboration agreement with Janssen Biotech for the clinical development of PTG-200.  Protagonist has also applied its versatile platform outside of the GI disease areas and is developing an injectable hepcidin mimetic, PTG-300, for the treatment of anemia related to rare blood diseases with an initial focus on beta-thalassemia. PTG-300 recently completed a Phase 1 clinical trial, which established pharmacodynamic-based clinical proof-of-concept in normal healthy volunteers. The U.S. Food and Drug Administration has granted Orphan Drug Designation to PTG-300 for beta-thalassemia.
Protagonist is headquartered in Newark, California, with pre-clinical and clinical staff in California and discovery operations in both California and Brisbane, Queensland, Australia. For further information, please visit http://www.protagonist-inc.com.
Stock Quote
| | |
| --- | --- |
| Exchange : | |
| Volume : | |
| Today's Open : | |
| Previous Close | |
Data Provided by Refinitiv. Minimum 15 minutes delayed.
Stock Chart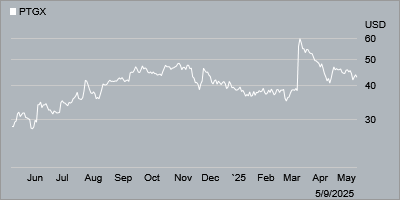 Press Releases
August 13, 2020
August 6, 2020
June 17, 2020
June 16, 2020
June 4, 2020
Events
June 23, 2020
1:00 PM EDT
June 18, 2020
1:40 PM EDT
June 3, 2020
10:30 AM EDT
May 28, 2020
10:00 AM PDT